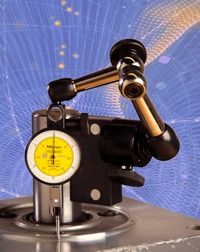 We'll never opt for a cheap and easy "fix" if there's a higher quality, more durable approach.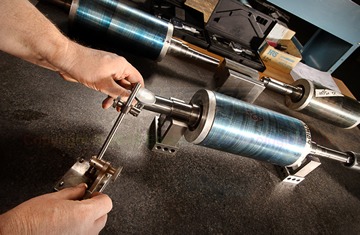 From sleeving and re-machining a worn bearing bore in an endbracket to the complexity of replacing a hollow, precision ground shaft for a thru-coolant spindle motor, our skilled machinists produce the highest quality workmanship.
By carrying an extensive inventory of pre-machined shafts, we can quickly and economically replace a worn shaft with a precision ground new part.
With 3 engine lathes with up to a 28″ swing, and hundreds of steel sleeves in stock, we can sleeve and re-bore the bearing housings of even the largest spindle motors.
Our machining arsenal includes machines for turning, milling, precision surface grinding, cylindrical grinding, and drilling. Here are just a few of our capabilities:
Repair and re-machine badly damaged cast iron housings
Replace and re-machine broken ears on a mounting flange
Fabricate custom molds and specialty tools
Refurbish a worn pulley with a new bore
Re-grind worn friction surfaces in a fail safe brake
Make a transmission shaft for a Mazak vertical machining center
Our capabilities and equipment
Turning
Takisawa TSL800 engine lathe with DRO
Kent ML20X60 engine lathe with DRO
Lion C10TM engine lathe with DRO
Grinding
Okuma 300mm x 1000mm hydraulic universal cylindrical grinder
Heald 273 ID grinder
Mitsui Seiki MSG-200MH
Milling
Bridgeport 2HP mill
Other
Johannson 2HP radial drill
Class A 36″x48″ granite surface plate
Bowers digital ID micrometers 25mm-150mm
Mitutoyo digital OD micrometers
Mitutoyo thread micrometers