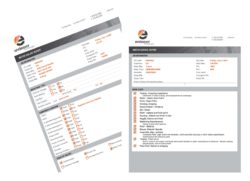 Our failure reports help you understand why your motor failed, and if there are steps you can take to prevent premature failure in the future. Our objective is to help you get the longest run time from your rebuilt motor.
Our service reports detail the scope of work performed to each motor, along with final test results including vibration levels, electrical test values, and mechanical assembly checks. This information is very useful when troubleshooting further problems with the machine, or simply for record keeping.
EXAMPLE REPORTS
Contact us to learn more, or call us at 630.562.0300.