Endeavor Technologies is the authority on motor rewinding for CNC machines. Windings for machine tools require special consideration, especially water cooled motorized spindles, servo motors, and torque motors. We offer high level technical support and motor rewinding services for machine tool builders, spindle rebuilders, and end users. Our rewind customers include Mazak USA, DMG Mori Seiki, JTEKT Toyoda Americas, Marubeni Citizen Cincom, and many other MTBs and independent spindle repair companies.
Why We're Different
We always label leads correctly because phase relationships are documented and checked during final testing.
Our mechanical stripping process protects bonded and precision ground lamination stacks (ex. Fanuc).
We stock a wide variety of specialized thermal protectors for Fanuc, Mitsubishi, Siemens, Indramat, GMN, and other windings.
We supply Hitachi lead wire, the same as used at the factory by Fanuc, Mitsubishi, and Yaskawa. Ultra-flexible and rated for 200ºC, there is no other product like it!
We reproduce windings exactly as originally engineered-no conversions from concentric to straight pitch.
We stock rewound and molded stators for exchange for expedited delivery.
Stripping Failed Windings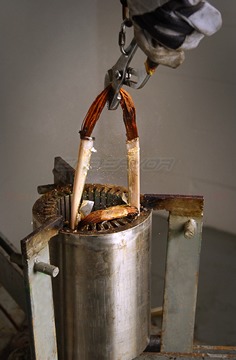 Stripping, or removing the failed coils, is the first step in motor rewinding. Our process softens the winding with moderate heat before we pull the coils. This is superior to the "burn-off" method favored by the motor repair industry. The burn-off process destroys the adhesive in bonded lamination stacks. Bonded stacks cannot be restacked with the same precision, and will not have 100% contact with the water jacket or housing.
Motor Rewinding Process
Burrs or rough edges are carefully removed from the core, and class H ground wall insulation is added. The slot liners are cuffed to provide extra protection where the coils are most vulnerable.
The coils are made by a computerized winding machine that optimizes the way the wires are layered. The coils are installed and internally connected by hand, and specially imported Hitachi lead wire is added. Hitachi lead wire is used by Fanuc, Yaskawa, and Mitsubishi because of its 200ºC temperature rating, high flexibility, and excellent resistance to chemical attack.
Motor Windings Protected
A powerful epoxy varnish is infused and baked into the winding to protect it during service.
Epoxy molding is increasingly used to improve thermal conductivity, and maximize power output. Our Epox-E-Pak insulation system is a highly engineered molding process that replicates original molded windings. It is also highly effective as an after-market upgrade to protect windings against failure from contamination.