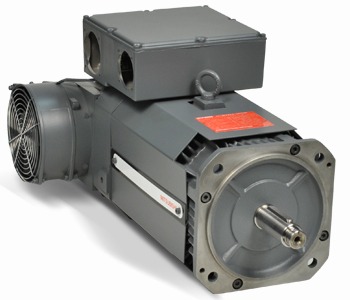 Looking for the authority on Mitsubishi spindle or servo motor repair?  At Endeavor Technologies we avoid using the word "repair".  We specialize in returning damaged, worn out, or old motors to like-new condition, not simply fixing what is broken.
If you're in a hurry to find a replacement for your Mitsubishi spindle or servo motor, check out our inventory of rebuilt motors for exchange.
Authorized Service Partner
Endeavor Technologies is Mitsubishi Electric Automation's authorized service partner.  We have access to the latest technical data and specifications.  Our personnel have received training at the factory in Japan.  No other company offers better service and support for Mitsubishi spindle and servomotors.
Our M50 and M70 CNC test stands incorporate a wide variety of MDS series servo and spindle controllers.  We also have test stands for FA (Factory Automation) servomotors utilizing MR-J2, J2S, J3, and J4 servos and older generations.  These test stands allow us to fully test motors, encoders, and PLG feedback devices.
Mitsubishi Motor Rebuild Process
Mitsubishi spindle motors use special radial bearings.  These bearings are designed to operate at elevated speeds and higher levels of precision than ordinary electric motor bearings.  We stock OEM bearings, PLG assemblies, encoders, brakes, terminal blocks, fan motors, original castings, and other components.
Rebuilding your Mitsubishi motor may require replacing the shaft if a bearing has failed catastrophically.  This may also be required if the output shaft has become badly worn.  To expedite delivery, we stock complete new shafts.  The experts in our machining department will precision grind all the critical diameters to factory tolerances.
If the motor winding has failed, our winding department will rewind it with class H insulation.  This is done while carefully observing the original factory winding specifications.
Endeavor Technologies will rebuild the magnet rotor of your Mitsubishi servomotor if necessary.
All spindle motors are dynamically balanced before being assembled.  Balancing is a critical aspect of rebuilding any spindle motor.  It is just as important to measure and monitor the amount of vibration the motor produces during full speed testing.
Completely Tested
Motors must be assembled to Mitsubishi's demanding accuracy standard to achieve the expected life.  After adjusting the PLG or encoder and verifying the assembly accuracy, your spindle motor or servomotor will be run through a break-in period to full speed.  This is done using one of our Mitsubishi CNC simulators or FA test stands.  Learn more about our testing procedure.
Service reports as well as failure reports are available on request.
Support AND Service
No one offers better service and support for Mitsubishi spindle and servomotors because no one else has made the same commitment to test equipment, training, and inventory.
If your Mitsubishi spindle motor or servomotor was "repaired" by an unauthorized repair shop and still doesn't work, or failed pre-maturely, it's not too late!  Send your Mitsubishi spindle motor or servomotor to us for rebuilding and comprehensive testing.
View a list of Mitsubishi motors we service.