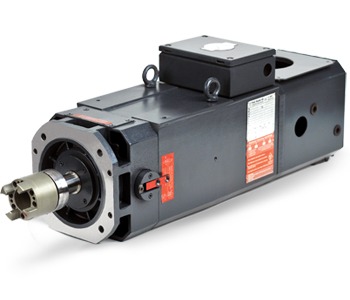 Looking for the authority on Franz Kessler motor repair?  Endeavor Technologies is proud to be a Franz Kessler authorized service partner for rebuilding spindle motors in the USA.  At Endeavor Technologies, we avoid using the word "repair" because we specialize in rebuilding.  We don't simply fix what is broken–we return old, damaged, and worn out spindle motors to like-new condition.
Franz Kessler primarily supplies spindles, motors, and torque motors for machine tool applications.  Endeavor Technologies offers complete rebuilding services for their motors and torque motors, as well as rewinding services for motorized spindles.
Repairing Your Franz Kessler Spindle Motor or Servo Motor
Franz Kessler spindle motor repair may require replacing the shaft if it is badly damaged. The experts in our machining department will fabricate a new shaft, and finish grind all critical diameters to factory tolerances.  We have extensive capabilities to refurbish or fabricate other worn and damaged components.
If the motor winding has failed, our winding department rewinds it with class H insulation.  This is done while carefully observing the original factory winding specifications.  Most Kessler windings are molded in epoxy to improve thermal conductivity and increase power output.  Endeavor Technologies' Epox-E-Pak insulation system is a molded winding that will meet or exceed the characteristics of the original.
All spindle motors are dynamically balanced before assembly.  Balancing is a critical aspect of rebuilding any spindle motor.  It is just as important to measure and monitor the amount of vibration the motor produces during full speed testing.  Kessler motors are often supplied for applications requiring exceptionally low vibration such as precising grinding machines.  During final run-off we monitor the vibration levels, and trim balance the motor until it conforms to the factory specified vibration level according to DIN ISO 2373.  Learn more about our balancing and vibration testing capabilities.
Completely Tested
No Kessler spindle motor repair is complete without a full speed run-in!  This is necessary to test the vibration levels and to ensure that the grease is properly distributed inside the bearings to prevent overheating.  This is done closed loop, using the encoder for speed control, with one of our Siemens compatible, Fanuc, or Mitsubishi CNC test stands.  Learn more about our testing procedure.
Service reports as well as failure reports are available on request.
Support AND Service
Endeavor Technologies offers the highest service and support for Franz Kessler spindle motors.  If you're dissatisfied with a Kessler motor that was "repaired" by a less experienced repair shop, it's not too late!  Send your Franz Kessler spindle motor to us for rebuilding and comprehensive testing.
View a list of Franz Kessler motors we service.