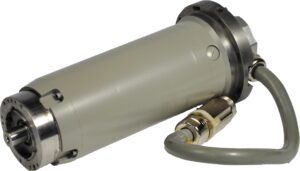 SSB Antriebstechnik, now CEDS DURADRIVE manufactures highly specialized motors for difficult applications. Their product range includes synchronous and asynchronous AC motors, as well as DC motors.  Endeavor Technologies is highly skilled at rebuilding small to medium size (up to 300kW), water cooled synchronous and asynchronous motors for special applications such as those manufactured by CEDS DURADRIVE of Germany.
Even badly damaged motors can be rebuilt to like-new condition. One of the services that sets us apart is our ability to rebuild failed magnet rotors, so a damaged magnet rotor doesn't mean a death sentence for your CEDS DURADRIVE or SSB synchronous motor.
If the motor winding has failed, the old winding will be carefully reverse engineered before being stripped and rewound according to our demanding winding process.
Worn mechanical components will be fabricated or refurbished by our expert machinists. Our machine shop is fully equipped with lathes, mills, and precision grinding equipment.
Rotating components will be precision balanced in our balancing department on one of our Schenck Trebel hard bearing balancing machines.
New bearings, seals, and any other required parts will be installed during assembly, and the encoder will be tested and aligned as required. Mechanical assembly tolerances such as shaft and flange runout will be checked and confirmed to be within factory tolerances or DIN 42955-R standard.
Finally the motor will be subjected to our rigorous test protocol, checked for excessive noise or temperature, and the vibration levels recorded. When appropriate, full vibration spectrums will be recorded.
All test data becomes part of our database, and a link to the final service report will be emailed to you upon request.
Don't rely on "repair" shops without extensive experience rebuilding specialized permanent magnet synchronous and asynchronous motors. Send your Oswald motor to Endeavor Technologies to be rebuilt to like-new condition today.
View a list of SSB Antriebstechnik motors we service.